Each year there seems to be a ton of new strollers released to the market. Today we are going to review the best baby strollers for 2023. Some were brought out this year and others are slightly older, but they are all the best baby strollers available on the market today.
A theme of the best strollers in 2023 is the willingness of manufacturers to offer more storage space for parents whilst still offering lightweight strollers, with some of the best lightweight strollers offering both better storage and control over their predecessors.
There also seems to be more and more travel strollers coming on the market – as a Mom that frequently travels, I welcome this a lot. It seems portability is the main improvement, with the best travel baby strollers being both compact and lightweight, a win for traveling Moms.
Below are the top strollers, including unreleased baby stroller reviews so you can stay in the know. There are some exciting improvements that I can't wait to share with you all. So here it is – your guide to the best baby strollers of 2023!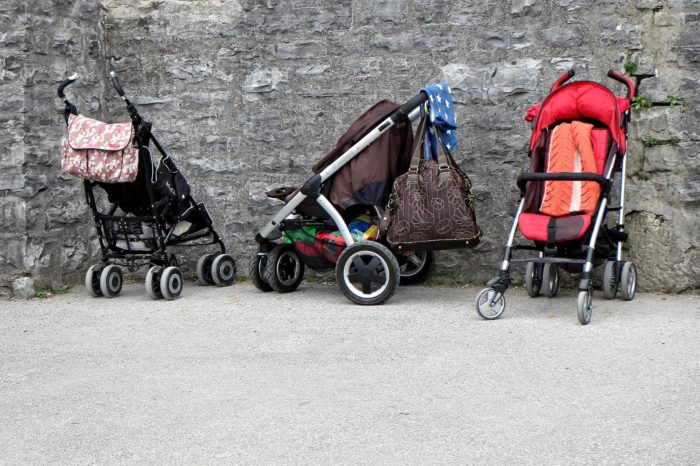 Best Double Baby Strollers
Growing families need strollers to be adaptable, and the best double strollers 2023 offers are just that. Many feature designs that are adaptable to your needs, with removable seats and added extras. Double strollers are now more responsive and compact than ever before, and even the side by side strollers of 2023 are an improvement over past years. Read the reviews below to find the best double stroller 2023.
Austlen Entourage Review
Starting with the best double stroller of 2023, the Austlen Entourage has been long awaited with some serious excitement, and for good reason! This is an innovative in-line baby stroller which is convertible to accommodate one or two children.
The frame easily expands to three positions, as well as five recline positions, including near flat recline for newborns; the stroller is suitable from birth, and up to a weight of 50lb. There is a reason this is thought to be one of the 2023 best stroller options! Check it out for yourself in the video below:
There is a large amount of space available for any shopping or even luggage, making this light yet spacious stroller ideal for travel. This is sure to be one of the best selling baby strollers in 2023, and it is a very flexible choice, which folds up extremely easily for quick storage. You can also choose between a stylish black or navy denim.
There are many extra accessories you can purchase to go along with your new stroller, including a second seat, a jump seat, and a standing platform for older children.
You can check if the stroller is available by clicking here.
Baby Jogger City Select LUX 2023 Review
This is certainly going to be on the short list for the best single stroller 2023.
The fabrics of the stroller are the biggest change, as they are now seriously stylish, in slate, port, graphite, or taupe. The stroller itself is around 30% smaller than the previous model, which makes zipping from place to place much easier, as well as being an ideal travel accompaniment to this new stroller in 2023, and you can have a look at it for yourself in this video:

Other notable changes to the previous model are that the brake is now much easier to access, situated a little closer to your fingertips than before, and there are two settings now – parking and decelerating. The suspension is improved on all four wheels, which makes for a better ride, and there are now 20 different configurations available!
Add in a jump seat and an extra shopping bag if you want to further boost your stroller's functionality. This is definitely high on the competition list for the best baby stroller 2023.
See if the stroller is available and check out the latest prices here.
Valco Baby Neo Twin Review
Without a doubt, one of the best lightweight double stroller 2023 options to come onto the market is the Valco Baby Neo Twin. As you will see, this is a very lightweight baby stroller which can be used on all different types of ground, so no matter what terrain you are traveling over, you won't have to worry about damaging the stroller, or that your baby will have anything less than a smooth ride.
The 8" and 10" front and rear wheels are air pumped for an extra smooth journeys, and there is an adjustable handlebar and footrest for extra comfort. The seats sit side by side and are individually adjustable, reclining to near flat for newborn babies and can be seen in all its glory here:

As you would expect from the best double stroller 2023, there is a large storage basket underneath the seats for everything you need, and overall this is a very compact double stroller, which folds up quickly and easily. There is also fabric on the inside to avoid it getting dirty, and the stroller also stands individually when closed up.
Click here to see the latest prices.
2023 UPPAbaby VISTA V2 Stroller Review
If you were waiting for the UPPAbaby Vista 2023, you were not the only one. We are so excited about the new UPPAbaby Vista and as you will see, there is serious potential for this to be the best infant stroller 2023, with very luxurious extras as an upgrade from the last model.
This is a convertible in-line stroller, and it is now available in four new colors, including the leather bumper bar and handlebar covers; these are hand-stitched onto the stroller itself, for extra style and luxury – as a side note, you can get new colors which zip onto the handlebar in the future.
In terms of functionality, the new upgrade is around 2lb lighter than before, and the wheels have been given a re-vamp, now made from solid polyurethane to ensure a much less bumpy ride for your baby. The gap between the wheel and frame has been closed in by 1.5", which again helps no matter what terrain you are traveling over, and the upgraded canopy on the 2020 Vista gives you better coverage with a zip-out extension. Check it out in the video preview below:
All these new and luxurious elements certainly mean that this is going to be one of the best strollers for infants in 2023.
Click here to see the latest prices.
Maxi Cosi Dana for 2 Review
If you are looking for one of the best strollers 2023 for toddlers, then certainly look towards this Maxi Cosi Dana for 2. As the name would suggest, this is a double stroller, with seats which are side by side and individually adjustable.
Suitable for use from birth upwards, there is a new flat recline function for newborns, as well as several other settings as your child gets a little older, and more fussy about what they want to see! Check it out for yourself here and see why this is likely to be one of the best strollers for toddlers 2023:
Another function which makes this one of the top strollers of 2023 is the fact that it is also possible to use it as a travel system, by using the included car seat adapters – if your children are sleeping, you then don't have to wake them and transfer them into the stroller.
The sun canopies are also large and include windows for you to check out what is going on. There is a parent cup holder for your comfort, as well as a large storage basket, big enough to fit in everything you could possibly need. As an added extra, the seat material is reversible, and it is also machine washable.
Click here to see the latest prices.
You can always read more about double strollers here.
Best Lightweight baby Strollers
Of course, with the popularity of lightweight strollers, the best lightweight baby strollers of 2023 are impressive. Manufacturers are seeing our desire for lightweight and compact strollers that do not sacrifice storage space and comfort, and designs are only getting better.
Baby Jogger City Tour Lightweight Stroller Review
If you are a regular traveler then this particular lightweight stroller about to come onto the market is a massive boost for you. Ultra-lightweight and folds up small enough to fit into the overhead compartment of an airplane, this Baby Jogger City Tour Stroller is going to be one of the top rated strollers 2023 – check it out in full view here:

Weighing just 14.2lb, you won't strain when folding this stroller down, and it has a two step fold mechanism with an auto lock for added safety. Suitable for children from 6 months, up until 45lb in weight, there is also a very large storage basket under the seat and you can easily reach it, holding around 15lb – that's a lot of shopping!
In terms of child comfort and safety, there is a five point harness which is padded, and the seat is extra high, so toddlers will be more than safe and comfortable. The stroller actually fits into the included travel bag which has padded shoulder straps, allowing you to carry the stroller as a backpack whilst traveling.
The seat itself also reclines to a near flat position and there is a large sun canopy which reclines easily and smoothly. Easy to see why this will be one of the best affordable strollers 2023 has to offer.
Click here to see the latest prices.
Britax B-Ready 2023 Stroller Review
This is a convertible in-line baby stroller, which accommodates a second seat (sold separately). This is one of the top lightweight strollers 2023, which is smooth to push, easy to collapse down, and compact whether up or down.
The major difference from this model to the last one is that this version is much more stylish, with a new shape design, making it easier to move around. There is also a very large storage basket underneath the seat, with more than enough room to fit in everything you need, and more. Choose between several color shades, which you can check out for yourself here:

As you will see, there are many extra features, including a handlebar which now adjusts for comfort, a linked break, and it is extra easy to convert the stroller into a double version, with that aforementioned second seat. Recline back in four positions, including near flat recline for newborns. This is certainly sure to be one of the best baby strollers.
Click here to see the latest prices.
Bugaboo Cameleon3 Stroller Review
If you're looking for both the best compact stroller 2023 and luxury, then the Bugaboo upgrade is certainly going to tick your boxes. This best travel stroller 2023 now has a mock leather handlebar and is more stylish than it has ever been before. Check out the new appearance here, and you will see that the baby stroller ratings 2023 can't be wrong:

Compact and lightweight, the new Bugaboo Cameleon stroller is easy to lift and collapse down, with a compact fold and new lightweight design. The reversible seat gives you extra options, and there are three separate reclining positions, as well as a handlebar which is adjustable, so you have a comfortable ride, just like your child. The sun canopy is also huge and extendable.
This has always been a very popular brand for baby strollers and will continue to be with the new changes to the 2023 model.
Click here to see the latest prices.
Read more about lightweight strollers
What baby strollers are you most looking forward to in 2023? Let us know!
Disclaimer: The Stroller Site is a participant in the Amazon Services LLC Associates Program, an affiliate advertising program designed to provide a means for sites to earn advertising fees by advertising and linking to amazon.com, amazon.co.uk, amazon.ca. Amazon and the Amazon logo are trademarks of Amazon.com, Inc. or its affiliates. Thank you for supporting TheStrollerSite and ensuring we will keep being able to provide you the best information about the best strollers!