As a newborn is unable to support their own head, they present their own challenges when looking for a suitable stroller. However, you do not have to feel that your options are limited, as you will find there are many different types of strollers for newborn babies with different attachments and options for newborns.
The best stroller for newborns will have support for their head and body, and allow a comfortable place to nap too. This becomes more handy when the stroller has an option to be used as a bassinet too. Below you will find the best strollers for newborns and their accompanying reviews.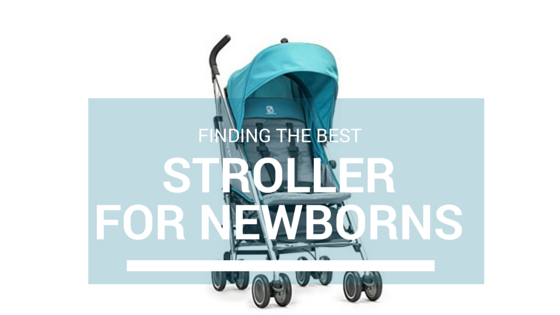 The Best Infant Strollers
Comparison Chart
If you are looking for best strollers for newborns, the following chart will help you compare all the best ones. Simply look at whichever criteria is the most important to you. Below you will find our newborn stroller reviews.
Strollers For Newborn Options
As a newborn will require more support than children that are over 6 months, they generally require a stroller that will allow them to lay flat. This leaves you with several options and designs of stroller, each with their own advantages and disadvantages. These options are listed below so that you can get an idea of which may be most suitable for you.
Reclining Stroller
Reclining strollers are suitable for parents that only require a stroller and therefore do not need it to be carseat adaptable, or to be used as a bassinet. Reclining strollers are therefore an easy and cost effective stroller option that usually have reversible seats, with the rear facing position being suitable for newborns and front facing position being suitable for older children. This means that many reclining strollers can also follow your child through to toddlerhood and may be best newborn stroller option for you.
Pros
Reclining strollers have the advantage of being set up for use with no need to attach the seat.
They recline flat.
They can also often be used by older children.
Cons
Some reclining strollers can often have hard seats, but infant inserts can be purchased and do a good job of making them more comfortable.
As they are suitable from such a young age, reclining strollers can often be outgrown quicker.
Stroller and Bassinet
A stroller and bassinet option can mean different things for different strollers. For some strollers, the bassinet and seat are independent of each other and can be swapped around when your child outgrows the bassinet.
For other seats, the bassinet itself can and can be folded to create a toddler seat. The flat bottom of a bassinet makes it the most suitable and comfortable place for a newborn in a stroller and also means that they can sleep easily from without disruption straight out of the stroller. Bassinets can be used from birth to about 6 months old.
Pros
One of the most comfortable option for newborns.
Your newborn can be transferred easily from the stroller without disrupting sleep.
Cons
Your newborn will outgrow the bassinet relatively quickly so ensure that your stroller allows for either conversion to a toddler seat, or for the swapping of the bassinet to a seat.
Stroller Frame and Car Seat
Stroller frames with car seat attachments are a simple and lightweight way to allow your baby to stay in the one seat for transfer from the car to stroller, and many of these are the top strollers for newborns. This can be very convenient as the stroller frames often take up little space and can be left in your trunk, so that you will always have your frame with your carseat no matter where you go. Having your newborn in the one seat for both car and stroller also has its own advantages.
Pros
The frame is usually lightweight.
Your newborn can be transferred from car to stroller easily.
Cons
Stroller frames are only suitable for the carseat and become redundant without the carseat.
Carseats are also often sold seperately, so keep this in mind when purchasing the frame.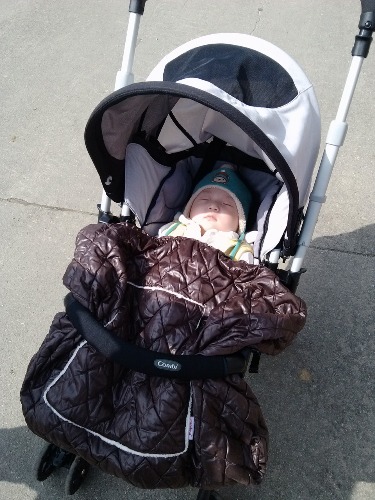 Travel System
Travel systems have their own advantage over purchasing a stroller and carseat, as travel systems are sold fully equipped and ready to be used as stroller or car seat. This makes purchasing the travel system easy and cost effective, as everything is included and you will be left sure that everything will fit. Travel systems can also last considerably longer than other stroller options, and if you are thinking longer term they can be a great option. Do keep in mind that travel strollers can be heavy, but a good quality one will ensure it stays with you for a long time to come.
Pros
Travel systems can often be used for longer than other strollers.
They allow for simple transfer from car to stroller, and everything is designed to fit.
Cons
Travel systems can be heavier and bulkier than normal strollers.
Stroller and Car Seat
Similar to travel systems, a stroller and car seat option can be handy and last you a long time. This option is great for those parents who do not want to be limited by only purchasing a stroller frame, as these strollers will also include a seat along with the option to remove this seat and attach a carseat in its place. This means that you have the option of leaving your newborn in their carseat for attachment, or transferring them into the seat of the stroller.
Keep in mind that some stroller seats are not suitable for newborns and in this case it is required that you use a carseat.
Pros
Your child can stay in same seat.
The stroller offers you options by allowing you to use as a normal stroller or to attach your carseat.
Cons
This type of stroller is not recommended for longer trips.
Infant Jogging Stroller?
It is possible to purchase jogging strollers for newborns that can be used from birth, however it is not suitable to actually jog with the stroller until your child has reached about 6-8 months (this varies with manufacturer and also depends on the weight and height of your child).
For example, the BOB Revolution Flex is a jogging stroller for infant that can be used from birth with an infant car seat adapter, but it is not recommend that the stroller be used for jogging until your child reaches 8 months old. Do keep in mind when searching for a jogging stroller for newborn that children grow at different rates and therefore your 6 month old may be perfectly suitable for jogging with.
Top Infant Stroller Reviews
UPPABaby Vista Stroller Review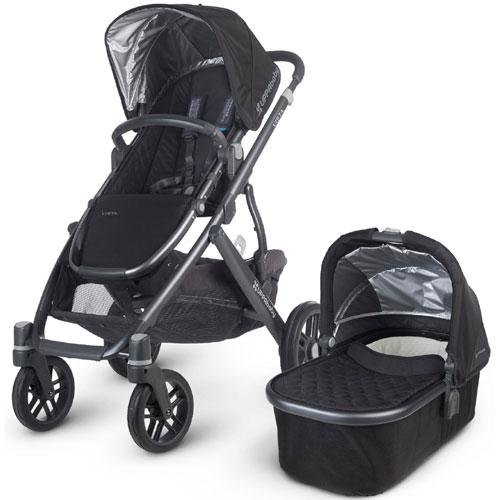 The UPPABaby Vista stroller starts off our list of strollers for infants, with many features making it one of the top infant strollers. This is primary due to the stroller's ability to grow with your family, allowing room for many different configurations such as two toddler seats, two bassinets or two compatible car seats.
Not too much has changed in the newer model – but there is a softer fabric. The bassinet is what makes the UPPABaby Vista a suitable option for newborns. The bassinet is approved for overnight sleeping and attaches very easily to the stroller. The bassinet also features an extendable sunshade for procession and cover, and a zip out liner.
As your child grows, the full sized toddler seat can be positioned to be front and rear facing. This seat also features one touch recline for a recline at different positions. The seats can be detached for a one step fold.
There is a large storage basket for essentials underneath the stroller and it is easy to access with 30lb capacity.
This stroller is the highest priced stroller on this list. This is primary due to its ability to follow you from infancy to toddlerhood, but can mark the end of your stroller search forever.
Note that the stroller is not without its faults, and some infant stroller reviews have found that the one touch fold can jam at times which can be annoying.
It is not necessarily a lightweight options but considering all that it offers, it is certainly not heavy, and is easily one of the best stroller for infants.
Click here for more information and the latest prices.
Britax B-Agile Stroller Review

One of the more cost effective options on the list is the Britax B-Agile Stroller. This stroller has been designed with infants in mind with a near flat recline to create a safe and comfortable area for newborns. The seat is padded and supportive with an adjustable head pad and it can adjust to being fully upright.
Although the stroller is usable by newborns due to the recline, it also includes the option of using it with the Britax infant car seat, meaning you can use this stroller as a travel system.
The Britax B-Agile Stroller features a 3-point wheel design which makes it very responsive when being pushed, however do note some parents have reported difficulty when first pushing. As with other best infant strollers, it also features a handy one push fold option for easy storage and transport.
At around 16lb, this stroller for newborn is a lightweight option that does not sacrifice other additional features. The stroller has an extra large canopy for shade and sun protection. There is also large under basket for storage.
Click here for more information and the latest prices.
Baby Jogger City Select Plus Bassinet Stroller Review

It is marketed as 'the most versatile stroller on the market' and it is clear to see why. The great thing about the Baby Jogger City Select is that it can basically be whatever you need it to be, due to its ability to be a travel system, single, double and triple stroller. The stroller has over 16 ways to configure it. This is important to note if you are looking for baby strollers for newborns with an already existing family, or even if you are already having thoughts about another. This means it is one of the best newborn strollers for the future.
However, it is also important to note that as this is a travel system for newborns it will require the purchase of either a bassinet or compatible carseat for use as anything more than a single stroller. Other additional purchases are also available for you to customise the stroller as you wish, such as a childs snack tray.
This is yet another stroller for newborns that makes storage easy with a quick one step fold. This four wheel stroller features lockable front wheels for control over tough terrain. The seat and included footrest are also both fully adjustable.
Parents can note that the handlebar is adjustable, and along with other features also includes in an adjustable canopy and storage basket beneath.
Click here for more information and the latest prices.
Summer Infant 3D Flip Convenience Stroller Review

Next in our list of newborn baby strollers is the Summer Infant 3D Flip stroller which has been highly regarded among some as the one of the best strollers for infants. What helps to give it this title among some as the best infant stroller are a cheap and effective design, allowing for different seating, recline and storage options.
A single reversible stroller, it features a reversilbe seat for younger children and a front facing one for use as they age. This stroller has the capacity for newborn seated in the rear, with infant head support and 6 different position options for reclining.
As one of the best stroller options for infant, this stroller has somewhat more functionality than others and parents can also enjoy the addition of cup holders and side storage pocket to this stroller for cell phones. Both the seat and canopy are very large, and it also has a modrately sized underbasket.
The 3D flip is a great feature and it flips very easily, with independent seat straps on each side meaning it eliminates the issue of threading them through.
The stroller is also extremely lightweight at only 17lb, which makes it very easy to push as well. The price is just fantastic as well.
Click here for more information and the latest prices.
Baby Jogger Vue Lite Umbrella Stroller Review

The final newborn baby stroller in our review is the Baby Jogger Vue Lite. With such big cost variations in this list, this is another very low priced and cost effective stroller option for newborns. It can be tough to find strong and versatile umbrella strollers for infants, but this stroller is just that.
Specs of this stroller include a reversible seat option with a large sun canopy for protection in both front and rear seat positions. This rear facing position is what makes the stroller suitable for newborns. When in this mode, there are also shoulder pads to protect and provide comfort for your newborn. The seat itself is very well cushioned and should provide comfort for long trips.
If portability is important to you then take note, as this stroller is less than 15lb. This makes it the lightest stroller for a newborn baby in our list, and is great option for travel.
As with most Baby Jogger products, do not be fooled by the name. This stroller is not suitable for jogging.
The stroller can even be used as a travel system when used with an infant car seat adapter that is to be purchased separately. At such a low price and weight, this is a welcomed and unexpected feature, and makes the Baby Jogger Vue Lite great value, and one of the best newborn strollers of 2017.
Click here for more information and the latest prices.
Disclaimer: The Stroller Site is a participant in the Amazon Services LLC Associates Program, an affiliate advertising program designed to provide a means for sites to earn advertising fees by advertising and linking to amazon.com, amazon.co.uk, amazon.ca. Amazon and the Amazon logo are trademarks of Amazon.com, Inc. or its affiliates. Thank you for supporting TheStrollerSite and ensuring we will keep being able to provide you the best information about the best strollers!