As if the job of raising triplets wasn't tough enough, you will soon find out that locating the perfect stroller for them can be a tricky job too.There are limited stroller options available for triplets, and the ones that are available are often hard to push, bulky, weigh a tonne and are very expensive.
It was never going to be easy, but we have located and reviewed the best triplet strollers available, and do believe that the strollers we have listed below can work as a suitable option for pushing your triplets or triples.
The Best Triplet Strollers
Comparison Chart
Looking for the best triple and triplet strollers? The chart below will help you compare all the best ones. Simply look at whichever criteria is the most important to you. The weight capacity is per seat.
Name
Image
Weight (lbs)
Total Weight Capacity (lbs)
Suitable for baby triplets?
Price
Our Rating (/5)
Joovy Big Caboose Stand-On Triple Stroller
32
125
No
$
3.5
59
120
Yes
$
3.5

Valco Baby Tri Mode Duo X All Terrain Double Stroller

*
37.2
128
No
$$$
3.5
BebeLove USA Triple Jogger
57
120
No
$$$
3.0
Angeles Infant Toddler SureStop Folding Commercial Bye-Bye Stroller (4-Passenger)
77
160
No
$$
4.5
* You also need to purchase an extra Valco Baby Joey Toddler Seat to make this stroller a triple.
** This stroller is suitable for newborns with with car seats.
What is the difference between a triple and triplet stroller?
There is a clear difference between triplets strollers and a triple stroller.
A triplet stroller is made to hold three children all of the same age. The seats will usually be fixed, and the stroller can be configured with seats side by side or back to front. A baby stroller for triplets will be less likely to 'grow' with your family, as they are generally only suitable for certain ages and are not overly versatile.
This differs to a triple stroller whereby a triple stroller will have capacity for children of different ages. There may also be removable seats with triple strollers, and the third seat may simply be a bassinet for a newborn or a standing platform for an older kid. Triple strollers are more suitable to 'grow' with your family, as older children begin to walk, seats can be removed and the stroller will still be usable.
Triple Stroller Reviews
Joovy Big Caboose Stand-On Triple Stroller Review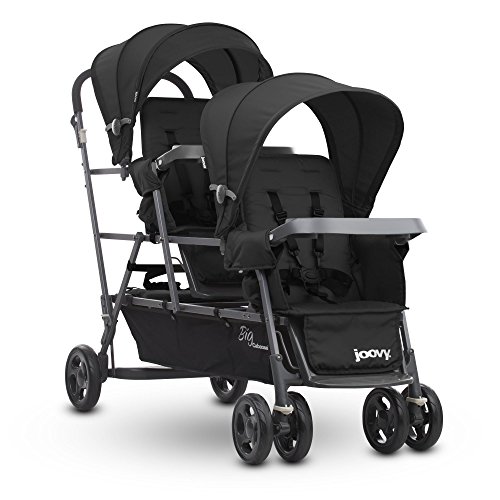 Aside from the catchy name of this stroller, the Joovy Big Caboose is similar to an umbrella stroller for triplets that is sure to keep the kids happy with a platform at the rear that allows for standing and sitting and a feeling of independence.
The stroller is much lighter than other triple strollers on the market and this can be attributed to its lack of a third stable seat. This means that this configuration of the stroller will only be suitable for triplets of toddler age, as although the stroller does support infants in the front, this will not be much use to families with baby triplets. However, there is an option to purchase a third seat which will make the stroller suitable for triplets if you have younger children.
The stroller turns great for a triple stroller and feels quite solid and stable. However, we do not recommend pushing on a grassy surface unless you want a workout!
The seats are basic but comfortable. There is plenty of storage with a pocket for your cell phone and a large under basket. The stroller also has a large canopy that can snap on and off easily. At the lowest price on our list, the Joovy Big Caboose represents great value.
Click here for the latest prices.
Childcraft The Trio Sport Triple Tandem Stroller Review

The Childcraft Trio Sport Triple stroller has three seats that are positioned in single file, each seat with its own canopy but no footrest. The stroller also features a large basket underneath with is easy to access as it is zippered on the side, which solves the problem of a hard to reach basket which many triple strollers have.
The best part of the Childcraft Trio is that the way it handles – this stroller is simple to push, responsive and comfortable. The stroller has large wheels to try and make it as easy as possible to turn and a cup holder on the handle bar. However, we found that the turning circle is quite wide due to the design of the seats.
The strollers seats each recline slightly but do not recline flat – a disadvantage for younger children. Each seat does have a 5 point harness and appear to be well padded, which is an added benefit for safety.
The main advantage of this stroller is its price. In comparison to other triplet strollers, this stroller is one of the cheapest on our list and is a cost effective stroller for parents on a budget.
Click here to read more reviews on the Childcraft Trio Sport Stroller and to see the latest prices.
Valco Baby Tri Mode Duo X All Terrain Double Stroller

Review
The Valco Baby Tri Mode Duo is a double stroller features a very innovative design with two seats side by side and a third seat that is placed on top as the crown of the stroller, which is purchased as an additional extra.
For this reason, the stroller is a triple stroller rather than a triplet stroller. As this seat is removable, it gives you the flexibility to choose to remove it when only venturing out for the day with two kids, saving weight and space.
The stroller itself pushes easily even with one hand and feels lightweight. Both seats at the base can recline independently, which means when one children is tired riding on top, they can nap at the bottom. There is also a large basket on the bottom, and the footrests of the stroller are adjustable.
This stroller is not without its negatives, and one major disadvantage of this stroller is that the straps appear to be of inferior quality. The seats are also not machine washable.
It was surprising to find how small the triplets stroller folds to, which makes it easy to take with you. A hood can be purchased for the top seat as an accessory and is recommended to complete the stroller. The two fixed seats already have extendable canopy's. The stroller is a great statement that will have the kids fighting to sit at the top.
Click here for the latest prices and to see the joey seat.
BebeLove USA Triple Jogger Review

or those parents looking to jog with their triples, take note of the BebeLove USA triple jogger, one of the very few strollers for triplets that is suitable for jogging. This triplet jogging stroller is one that will be perfect for some, yet not so suitable for others, so do read on and decide whether its for you.
The stroller itself has three seats that sit side by side. This design means that it does not fit through doors when unfolded. For this reason, it is recommended that this stroller be used almost exclusively outdoors, as indoors presents too much of a hassle. Therefore, if all you're looking for is a suitable triple jogging stroller then this is perfect.
The stroller has fixed front wheels and at 57lbs, it is heavy and will mean you will definitely feel like you're getting a workout with this stroller.
Each seat has individual storage and a large shared canopy that is removable. There are also footrests for comfort. The stroller does not feature a drink holder (an annoyance when jogging) and the seats do not recline.
Please click here for the latest prices.
Angeles Infant Toddler SureStop Folding Commercial Bye-Bye Stroller Review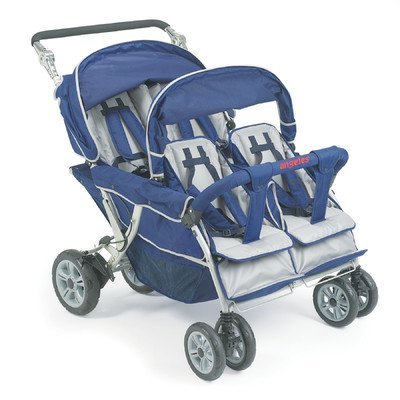 With it being hard enough to find a descent triple passenger stroller, the Angeles Bye Bye stroller goes a step further and allows for four passengers, so it remains suitable for another addition to the family or even as a place for a teddy to ride. The stroller itself is great for what it offers, and is in the top of its class.
The stroller is 33" wide and should be able to fit through most doors. For such a large stroller, it handles very well and features 'no roll' technology, so there is no concern of the stroller creeping away from you. The stroller is pushed by pressing down on the handles, and when let go, the bakes will engage.
The stroller is suitable for children over 6 months old, and each seat has a capacity for 40lb, a total of 160lb. The seats are comfortable and padded, and each seat reclines independently.
Do note, however, that at 77lb it is very heavy. This can make constantly transporting it to and from a car a big chore.
Click here for the latest prices.
Thinking that maybe a double stroller is a better option for you? Check out our guide to the best double stroller.
Disclaimer: The Stroller Site is a participant in the Amazon Services LLC Associates Program, an affiliate advertising program designed to provide a means for sites to earn advertising fees by advertising and linking to amazon.com, amazon.co.uk, amazon.ca. Amazon and the Amazon logo are trademarks of Amazon.com, Inc. or its affiliates. Thank you for supporting TheStrollerSite and ensuring we will keep being able to provide you the best information about the best strollers!