Some items of kit are simply invaluable when it comes to traveling with kids. If you want to save your back, give your little ones a comfortable place to rest whilst you're wandering around, and generally make life that little bit easier, then a portable stroller for traveling is the best way to go. But what makes a strolller the best travel stroller for you?
When looking for the best travel stroller to meet your needs, you need to give it some serious thought. Why? Because if you're going to spend hard earned dollars, then you need to know that you're investing it in something worthwhile, whilst also being comfortable and suitable for your bundle of joy; this is not a decision to make quickly! Shopping around is key.

The best stroller for travel with kids in 2018 is always going to be a lightweight option, and one which folds up small enough to allow you to carry it around as a piece of luggage. An easy travel stroller is not going to be the hardest thing for you to find on the market, but the key to the whole process is knowing what it is you need for your particular child, your budget, and your travel plans.
If you're struggling to figure it all out, consider this your one stop guide to solve all your travel stroller problems!
The Ultimate Guide to the Best Travel Strollers for 2018
Best Travel Stroller Comparison Chart
Here is a quick comparison of the best strollers for travel with information like the weight, whether it features a recline, the price and our rating. Below you will find our best travel umbrella stroller buying guide and travel stroller reviews of each of the strollers below.
Best Double Stroller for Travel Comparison Chart
This chart is for families looking for the best travel double stroller.
Do you Need a Travel Stroller?
First things first – do you actually need a travel stroller? Or are you throwing away dollars on something you don't really have a burning need for?
This is a personal decision and it really depends on the kit you already have at home. If you are used to using a large stroller, something which is heavy, then you probably would benefit from using one of the many lightweight travel strollers on the market, and in order to find the best lightweight travel stroller you are going to have to shop around a little; luckily for you, we have come up with a few ideas for you to check out a little later in our guide.
If you already have a stroller which is light and nifty, then you could possibly make do with what you have, provided it folds up relatively small enough to fit into a car trunk or is easy enough to take with you on a plane.
It's also worth thinking about how heavy it is; when you're using it on a daily basis, this might not seem like much, but when you're lifting and carrying it several times during the space of one travel day, your arms might pay the price.
Equally, do you need a double stroller? If so, then you certainly should be investing, and the best double stroller for travel will undoubtedly be a lightweight one, because you have twice the weight to push!
When looking for a foldable stroller for travel you need to look at several different criteria, and we will discuss later in our guide exactly what it is you need to look for, including price, size, weight, and additional features; these are all important facets which will make up the best decision for your travel gear. On top of this, many strollers come with accessories or extras, such as a lightweight umbrella stroller for travel, and this is something you might like to look into.
So, do you need a stroller for travel? If your current best travel stroller is heavy or old, then yes, you probably would benefit, and in that case, read on!
See the top rated travel stroller here!
Buying Guide: How to Choose the Best Stroller for Travel
This section will explain just what to look for when shopping around for a travel stroller, including the reasons why each area is important.
What size and weight is the travel stroller?
When choosing the best baby travel stroller you need to consider how big it is, and what it weighs. If you are going to be traveling by airplane a considerable amount then you need to find a stroller which is light and easy enough to fold up quickly and easily; equally, if you are thinking about road tripping, then you need something which fits into the trunk of your car with ease.
You will find a wide range of sizes and weights on the market, so it is going to be a case of shopping around. The smallest stroller for traveling isn't always going to be the lightest, so make sure you read the small print before committing.
What age is the travel stroller suitable for?
You need to consider the age of your child and how often you're going to be traveling over the coming years. For instance, if you currently have a baby and you're thinking about several trips over the coming three or four years, then you need a stroller which your bundle of joy can grow with.
On the other hand, if you have a toddler currently then you need to look for the best travel stroller for toddler on the market, because you're unlikely to need something bigger afterwards.
Is it easy to fold?
No matter what form of transportation you're using, you're going to need to fold up your stroller at some point, and if you're in the middle of an airport queue, you need to do it quickly; in that case you need to find the best stroller for air travel, which will mean it is quick and easy to fold down at the boarding queue gate.
Again, road tripping will still need a stroller which doesn't require superhuman strength to get it to collapse down, but this might not require a stroller which is quite as lightweight. If you're thinking about using both methods of travel however, you need to look for a foldable stroller for plane travel, as well as one which will suit you for more land-based breaks too.
How important are extra features such as a storage basket and recline?
Again, it really depends what you're using it for as to whether these extras are going to be of any use to you, or whether they simply drive up the price unnecessarily. The best umbrella stroller for travel is probably going to be a little more expensive than a stock-standard travel stroller. However, if this is an extra which is going to be useful to you then it might be worth paying a little extra. There are many choices when it comes to a lightweight umbrella stroller for travel, so again, shop around for the lowest costs.
Do you need a stroller for more than one kid?
If you need to transport more than one child in a stroller then it's not rocket science to realise that you need a double stroller, and there are still options for the best lightweight stroller for travel for more than one child. We've said it once and we'll say it again – shop around! Some double strollers are expensive, however if you don't need the added extras you might be able to find a bargain buy.
Top 10 Travel Stroller Reviews
Below are our reviews of our picks for the best travel strollers on the market today.
Babyzen YOYO Stroller Review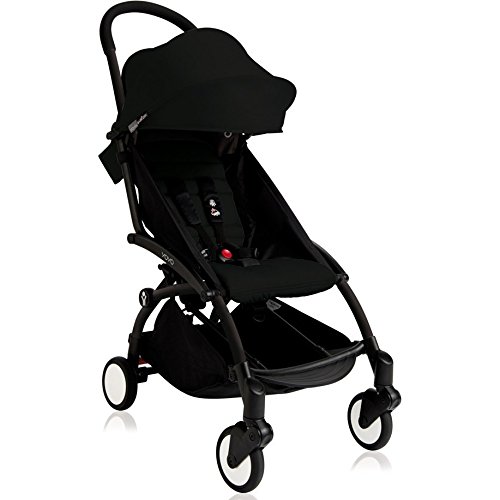 The Babyzen YOYO Stroller is the perfect choice for those who want to take their stroller on airplanes, because it folds up super-small and will even fit into the overhead compartment onboard. Usage is made even easier by the one handed folding mechanism, making this one of the most compact travel stroller choices on the market.
The four-wheel suspension makes it easier to use too, with comfort for babies and toddlers. The front swivel wheel is easy to use without locking, so you can be assured that your little one is safe whilst inside the stroller, especially over rough terrain – and it now holds up to 40lbs!
Read more about the Babyzen YOYO Stroller and see the latest prices here.
See the stroller in action here and just how small it folds!
A similar choice to this is the crazy compact GB Pockit Stroller.
Baby Jogger Vue Lite Umbrella Stroller Review

This is one of the best travel strollers for toddlers because it folds up super fast and easily, which is perfect when you have a grizzly child who you want to get settled fast! The seat is also easy to reverse and the large sun canopy protects your little one from the harsh sun rays, with SPF 50 protection no matter which direction the seat is facing.
This is one of the lightest travel stroller choices, which looks much bulkier than it actually is. On a totally superficial tip, this stroller is actually really attractive to the eye too!
Read more about the Baby Jogger Vue Lite Umbrella Stroller and see the latest prices here.
Maclaren Volo Stroller Review

We know that Maclaren is a big name in the stroller world, so that gives it instant kudos, and peace of mind that you're dealing with quality too. This is a lightweight infant travel stroller, which has one seat position, so not ideal for younger children who you want to get to sleep quickly and easily. However, it is suitable for children aged 6 months and upwards.
The waterproof hood has a stay back feature, so no irritating wind malfunctions, and the hood itself is extra large, so no drips on your child either, as well as an included rain cover.
Read more about the Maclaren Volo Stroller and see the latest prices here.
UPPAbaby G-Lite Stroller Review

If you're looking for an aesthetically pleasing travel stroller then this is for you! Also, if you're looking for the best stroller to travel with, this is certainly in the top section.
The fabric is breathable and is also removable, for easy washing in case of any spills. There is a sunshade with SPF50+ protection, and the canopy itself is height adjustable, so you could say that it grows as your child does. This is certainly a light stroller for travel that won't break the bank which is easy to open and close on the move, without difficulty when you're short of time.
Read more about the UPPAbaby G-Lite Stroller and see the latest prices here.
UPPAbaby G-Luxe Stroller Review

This particular light travel stroller looks really sturdy, and is misleadingly light compared to its appearance! Again, this is an easy on the eye choice, which comes in various colours, including a very attractive green shade. Unlike its sister stroller, the G-Lite, this stroller has a recline function.
The lightweight frame is perfect for travel, making it up there for the title of best stroller for travel by plane, and the one action brake makes it easy to move around too. The canopy is also adjustable and there is a SPF50+ sunshade to protect your little one too. The material is breathable and easy to remove in case of spills, with a totally washable outer layer.
Read more about the UPPAbaby G-Luxe Stroller and see the latest prices here.
ZOE XL1 BEST Xtra Lightweight Stroller Review

Another in the ZOE range, and this one comes in several different colours, so you can dress it up however you please! This is another super lightweight choice of stroller. It only weighs 10lb, which means it has total ease of transportation, no matter how you choose to move around.
The wheels come with a guarantee, so if they break for any reason they will be replaced, which gives you peace of mind.
This is a choice for the best folding stroller for travel, and it is quick and easy to fold up, and perfect for every day use too – this is the ideal way to save dollars, without spending money on two strollers for different situations.
Read more about the ZOE XL1 Best Xtra Lightweight Stroller and see the latest prices here.
See it in action here:
Mountain Buggy Nano Stroller Review

Now, the name may suggest it is mountain ready, but no travel stroller the world over is ready for this kind of terrain! What this kind of stroller is perfect for, however, is travel and regular use.
This is an ideal compact stroller for travel, at just 21" wide, and weighing only 13lb. The age range is for children up to 4 years, so ideal for a young child and for those who are thinking of using it for the first few years of life.
There is a two step folding action, and a travel bag and shoulder strap, which means it is very easy to carry around. It is compact enough when folded to be allowed on planes as cabin baggage. This is without a doubt one of the best traveling stroller choices. In fact, it is our personal favorite and we use our Nano a lot.
Read more about the Mountain Buggy Nano Stroller and see the latest prices here.
See it in action here:
Summer Infant 3D Lite Convenience Stroller Review

This is a very stylish choice, and an ideal small travel stroller for those on the go. The frame is made of aluminium, which makes it sturdy, however it only weighs 12lb, so it is ideal for carrying around on your travels.
The seating area is large, with a 4 position recline – this makes it ideal for a range of ages, especially as the harness has a 5 point hold. The canopy is removable, so good for different weather conditions, and the large storage basket both at the front and rear, means you can carry everything you need all in one place.
Read more about the Summer Infant 3D Lite Convenience Stroller and see the latest prices here.
UPPAbaby G-Link Stroller Review

Double strollers are not often that lightweight, simply because there is much more to them, but this one is just about as compact as a double stroller can get with side by side seating positions.
The footrests are adjustable, and the one handed recline action means you can lay a newborn flat, or you can have a toddler in a more upright position with an included headrest. This is a certain in the shortlist of travel strollers for infants, however it suits many different ranges, as we have mentioned. This is ideal for those who travel either by plane or car, as the stroller folds up small for both situations.
Read more about the UPPAbaby G-Link Stroller and see the latest prices here.
See the G-Link in action here:
ZOE XL2 BEST Xtra Lightweight Double Stroller Review

Our final choice is another double stroller, and a super lightweight one at that – this particular choice weighs only 16lb and that is half the weight of many other double strollers.
The folding down action is quick and easy, which is ideal for situations where you need to collapse the stroller quickly, such as at the boarding gate. If you have two children and you're looking for a cheap umbrella stroller for travel, this is it.
The seats are deep reclining, and can hold up to 18kg. There is also an included large storage basket, to hold everything you need, as well as a lifetime guarantee on the wheels, which will probably take some strain.
Read more about the ZOE XL2 Best Xtra Lightweight Double Stroller and see the latest prices here.
See the ZOE in action here:
Do you travel with a stroller?
Disclaimer: The Stroller Site is a participant in the Amazon Services LLC Associates Program, an affiliate advertising program designed to provide a means for sites to earn advertising fees by advertising and linking to amazon.com, amazon.co.uk, amazon.ca. Amazon and the Amazon logo are trademarks of Amazon.com, Inc. or its affiliates. Thank you for supporting TheStrollerSite and ensuring we will keep being able to provide you the best information about the best strollers!