With more and more complex strollers on the market, lightweight strollers remain appealing to many parents as they can make life so much simpler. Finding the best lightweight stroller for travel can mean quicker strips, easier storage and less strain on your body.
So what is a lightweight stroller? Generally, the best lightweight stroller is one that weighs less than 20 pounds. They are usually the most portable and easy to use strollers and fold up smaller than the typical stroller. This makes them great for use in smaller cars and for traveling families.
Lightweight strollers are also great for short walks or use in shopping malls, although they are less suitable for shopping as they generally cannot carry as much.
Below you will find our guide to buying the best one as well as the best lightweight stroller reviews.
See the top rated lightweight stroller here.
The Ultimate Guide to the Best Lightweight Stroller in 2019
Comparison Chart
Below is a comparison chart of the top lightweight strollers on the market. Check out a comparison of whichever criteria is the most important factors for you, such as price, weight, etc.
* – The stroller can be used from birth if you connect your infant car seat.
Check out some more lightweight strollers in our article about the best strollers for NYC.
How to Choose the best Lightweight Stroller for your Family
There are three questions you should ask yourself to help you in your choice of the best lightweight strollers for 2019:
What age is your child? How long do you want to use this stroller for?
Do you want to use this stroller from birth?
Are you planning to travel with your stroller?
1. What age is your child? How long do you want to use this stroller for?
It is important to keep the age of your child in mind when selecting a lightweight stroller and how long you want to be able to use it for. If your child is older than six months, with good neck control then most of the strollers in the table above will be fine. However, for older or bigger children then you'll need to consider the maximum weight a stroller can hold safely (the recommended weight limit).
This also applies if you are considering buying a stroller for use far into the future. Some larger two-year-olds can weight over 40 pounds and if you need a stroller to last until your child is happy walking then it can be a good idea to buy one with a high weight limit, such as the Maclaren Quest Sport Stroller.
2. Do you want to use this stroller from birth?
Unfortunately, most lightweight strollers are not suitable from birth. This is due to the fact that they often do not fully recline and have less padding and safety features than other strollers. That being said, finding a lightweight stroller suitable from birth is possible, with one option being the Britax B-Agile Stroller.
Usually, the more features a lightweight stroller has, the less 'lightweight' it is considered. Purchasing a lightweight stroller with added features suitable from birth can also give you flexibility if you decide to have a second child as you save yourself the hassle of purchasing a second stroller.
3. Are you planning to travel with your lightweight baby stroller?
If you intend to do a lot of traveling with your stroller then you want one that weighs as little as possible. After all, you may have to carry it a lot! So try and buy the lightest stroller that meets your needs, for example the very light UPPAbaby G-Lite Stroller.
When traveling, you will need to carry your stroller often and also fit it into small spaces, so a stroller like the UPPAbaby G-Lite Stroller is a good choice and one of the best lightweight strollers for travel.
It is important that your stroller meets all safety standards.
Top 8 Lightweight Strollers Reviews
Baby Jogger City Mini 3W Single Review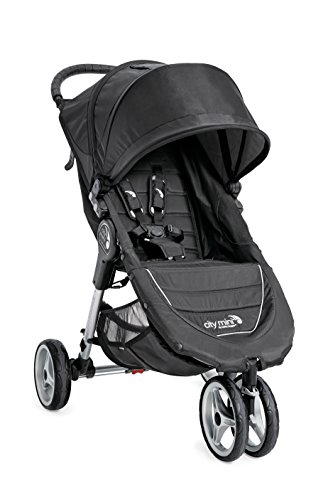 The Baby Jogger City Mini 3W Single is a popular and quality choice.
This stroller has a padded seat that reclines to a near-flat position. It has a fantastic, multi-position sun canopy, and folds easily with one hand. Unlike many other lightweight strollers, it is also a large basket underneath for storage. It also has a vented seat top, padded seats with a 5-point harness and shoulder pads.
This stroller is a great choice for people who want the portability of a lightweight stroller but want all the features of a bigger stroller, as well as one that can be used from birth. Check it out in action!
You can also read the full review or check out the latest price.
GB Pockit Stroller Review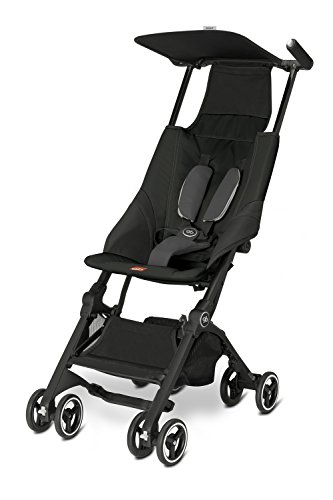 The word 'pockit' in the name should give you some idea about the compact and lightweight nature of this particular stroller, and it certainly doesn't disappoint! Available in a classic black shade, there is a two-stage folding mechanism which flicks the stroller down very quickly and easily and can be done with one hand.
When it is in the folded position it stands up easily on its own, so no problems with having to find somewhere to prop it up! The stroller also folds down into a small square shape, which is very lightweight, and can, therefore, be used for travel adventures on the go, when you need to save space, and perhaps store the stroller in an overhead locker, for example.
This is a small stroller but extremely strong and durable, and it is made to last. For that reason it is great value for money, and ideal for short journeys and travel.
Click here to see the latest prices for the GB Pockit Stroller.
Maclaren Triumph Stroller Review

The Maclaren Triumph Stroller is a great choice for people looking for a lightweight stroller.
This stroller has multiple position recline and padded seats. It also features one hand fold up and is appropriate from 6 months old to 55 pounds. It is durable and compact and easy to steer. The sturdiness and flexibility make this our top choice for the best lightweight stroller for toddlers.
The Maclaren Triumph Stroller comes complete with rain cover and 5-point harness. This stroller is best for families who want a stroller that will last until their children no longer need a stroller, and the quality means it will last through multiple children.
Read our full review of the Maclaren Triumph Stroller or check out the latest price.
ZOE XL1 Best Xtra Lightweight Travel & Everyday Umbrella Stroller System Review
This particular lightweight stroller comes with a whole host of added extras and is also very attractive in appearance too – choose from pink, blue or yellow. There is a lifetime guarantee on the wheels of this stroller, which is certainly a great added bonus, as you have peace of mind that the wheels will be fixed or replaced should you come up against a problem during its lifespan.
This stroller is ideal for travel, because it folds down very easily and quickly with one hand, and fits into most airline overhead bins, so no worries on that score. You will find a very large storage basket underneath the stroller, ideal for shopping, and a large sunshade too.
The harness is 5 point for extra peace of mind, and there is a magnetic canopy window in the top for you to peek on your child and see what they are up to!
You can read more information and see the latest prices here.
Chicco Capri Lightweight Stroller Review

This is one of the lightest strollers available and a great choice for traveling. The Chicco Capri Lightweight folds up very small into the included carry bag with a strap which makes it great for carrying when not in use or checking in at airports.
There are two reclining positions, as well as the upright position. This allows your child to lie back or recline almost completely and go to sleep.
The front wheels also have suspension, an impressive feature on such a light stroller. This helps make the ride more comfortable for your child. The five point safety harness means that it'll be a safe ride as well.
The position of the basket is quite high in the frame compared to other lightweight strollers. While this makes it easy to reach into the basket the downside is that it cannot hold much. The size of the stroller also means that the handles are quite low compared to other strollers. If you are tall you may have to hunch a little to push.
The other downside is that it only supports children up to 37 pounds. This means this stroller might not take you all the way from six months through to walking as other strollers might.
Despite these drawbacks the Chicco Capri Lightweight is an excellent choice for a lightweight stroller, particularly for travel.
Click here to see the latest prices.
UPPAbaby G-Lite Stroller Review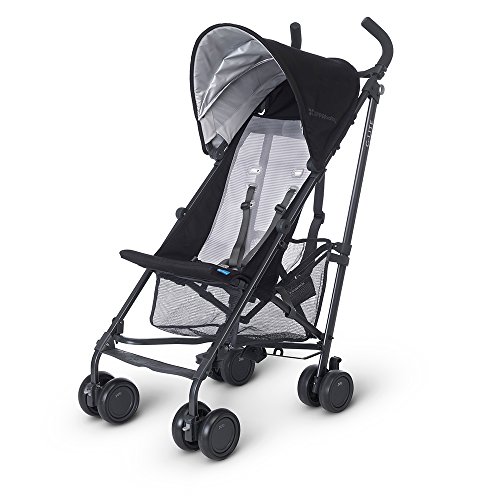 The UPPAbaby G-Lite Stroller is a great quality stroller.
This stroller has a quick and easy fold and is extremely lightweight at only 10 pounds. It features removal seat pad and a SPF50+ sun shade. It has a decent size storage area underneath. However, this model does not recline.
We rate this the best lightweight umbrella stroller, as long as you are happy with a stroller that does not recline.
It steers well and can be picked up with one hand using a carry strap. This stroller is ideal for people on the move a lot, especially if you are planning to travel as it is very easy to transport with its carry strap.
Sound interesting? Read our full review or check out the latest price.
Maclaren Mark II Stroller Review

Maclaren is a big name and that brings peace of mind, which is certainly what you will get with this high quality stroller, extremely lightweight and durable. Choose between three classic colors, with standard silver, black, or navy blue on offer. The hexagonal design is what really makes this particular lightweight stroller stand out, because it is very strong and sturdy, which many others aren't.
The stroller is also very easy to collapse down on the go, and the cable braking system is extremely effective. The mesh panel in the seat keeps your child comfortable, thanks to the breathable material, and the large cover is rain and wind resistant. You will also find 4 wheel suspension for any difficult terrain.
The storage compartment underneath the stroller is also large enough for most routine items you will need, as well as room for shopping.
You can see more reviews and the latest prices here.
Graco LiteRider Click Connect Stroller Review

There is a lot to like about the LiteRider Click Connect from Graco. This stroller is designed for incredible portability and use on the go under all sorts of conditions. The LiteRider features one-handed set up and fold, a lockable front wheel and rear wheel suspension. When folded up the dimensions of this stroller are quite small and when in use this stroller is not wide, making it a good choice for a lot of uses.
The quick, one handed, set up and fold down means this stroller is easy to use wherever needed. The lockable front wheel and suspension means that the LiteRider is adaptable to different terrain and conditions, from a bumpy train to a busy mall whilst keeping your child comfortable.
There are two adjustable seat positions, allowing for sitting up or a 30 degree recline to allow your child to get some sleep. Underneath the stroller is plenty of storage space for a stroller this size.
The stroller on its own does not support an infant. However, it is designed for use with the Graco infant car seat which can be attached easily and quickly. If you own a Graco infant seat then this stroller gives you a super-portable, lightweight, travel system.
The major drawback for the LiteRider is that it supports children up to only 40 pounds. This will be fine for the majority of kids but bigger kids may grow out of it when you'd still like to be using a stroller.
Click here to read more about the Graco LiteRider.
Best Selling Lightweight Strollers for travel on Amazon
Bestseller No. 1
Summer Infant, 3D Mini Convenience Stroller – Lightweight Stroller with Compact Fold MultiPosition Recline Canopy with Pop Out Sun Visor and More – Umbrella Stroller for Travel and More, Gray
LIGHTWEIGHT - A lightweight stroller makes any outing a little easier; The Summer 3Dmini Convenience Stroller has a durable steel frame that weighs 11 pounds and has a full-sized seat, plus auto-lock, anti-shock front wheels and lockable rear wheels
FOR TRAVEL AND EVERYDAY - Whether you're traveling or just on the go running everyday errands, having a lightweight, compact stroller is a must! It's mini, but mighty for long-term use and offers both an everyday and travel stroller option
MULTI-POSITION RECLINE - Keep your little one comfortable with multi-position recline, padded seat back and padded 5 point safety harness; It's perfect for nap time strolls and edge-of-the-seat travels; Maximum weight for this toddler stroller: 45 pounds
COMPACT FOLD - The easy, compact fold makes it simple to store this lightweight umbrella stroller and bring it with you on the go; Plus, it has a hassle-free canopy with flip out sun visor that is perfect for sunny days
EXTRA STORAGE - With plenty of storage in this stroller, you won't have to leave anything at home; It includes a storage basket, rear storage pocket and two cup holders
Sale
Bestseller No. 2
gb Pockit Air All Terrain Ultra Compact Lightweight Travel Stroller with Breathable Fabric in Night Blue , 28x17.5x39.8 Inch (Pack of 1)
The revolutionary ultra-compact folding mechanism of the Pockit Air All-Terrain reduces the stroller into a handbag-shaped package in seconds and is airplane hand luggage compliant.
Take to the skies with confidence. The ultra-compact folding mechanism of the Pockit Air All-Terrain is airplane hand luggage compliant, freeing you to travel with your stroller without hassle
Weighing only 4.6 kg, the Pockit Air All-Terrain is the perfect travel companion. Its super-lightweight frame is easy to manoeuvre, lift and carry. Perfect for the city, on vacation, or just being on the go.
The backrest of the Pockit Air All-Terrain is designed with a breathable mesh fabric that provides comfort for your child even on hot days. Available as an accessory, a snug padded inlay can be added to the seat unit for additional warmth on cooler days.
The double wheels of the Pockit Air All-Terrain increase both comfort and usability, allowing parents to confidently manoeuvre on different surfaces and ensuring you'll never get stuck in between cobblestones.
Bestseller No. 3
HARPPA Ringo™ Ultra Compact Umbrella Stroller, Lightweight Travel Stroller for Babies & Toddlers Easy Fold Adjustable Backrest and 5-Point Harness Safety Infant Stroller for Kids Black
Portability and Versatility: This lightweight travel baby stroller is designed to fit most airplane overhead compartments, providing convenient and flexible travel options.
Smooth Maneuverability: The front wheels are capable of 360° rotation, allowing for effortless turns and easy navigation in narrow spaces or crowded streets, making your walks hassle-free.
Suspension and Brake System: Equipped with a built-in suspension system on the front wheels, the stroller effectively absorbs shocks and ensures a smooth and comfortable ride for your baby. Additionally, the stroller comes with a reliable brake system, providing stability and security when needed.
Adjustable and Compact: The adjustable backrest allows you to customize the seating position to suit your baby's needs and provide optimal comfort throughout the journey. Moreover, the stroller can be easily folded and stored, saving space and facilitating convenient transportation.
Breathable Comfort: Designed with breathable mesh fabric, this stroller creates a comfortable environment for your baby even on hot days, ensuring proper ventilation and keeping your little one cool and content during travels.
Bestseller No. 4
Rollingsurfer Lightweight Baby Stroller, Compact Travel Stroller with Cup Holder & Sleep Shade, Oversize Basket, One Hand Easy Foldable Stroller for Airplane Travel and More
✔Upgraded Lightweight Stroller - The baby travel stroller backrest is can be adjusted between 100-170 degrees, so your toddler can sitting or lying. Our One-hand fold travel stroller will make outing more easier. travel stroller airplane-friendly lightweight design (only 14.33 lbs). And also has a extra-large canopy and large seat area. You can fold compact stroller it without much effort when you want to store it.
✔One-Second Fold - Deliver a true one-hand, easy fold compact travel stroller. The convenience stroller could stand on its own when folded. Convenient for going out or vacations. Reclining stroller lightweight Folded Dimensions: 19" W x 9" d x 25" h. This compact lightweight stroller makes it simple to store and easy to carry. (With a Cup holder)
✔High Quality - The lightweight travel stroller is constructed with a heavy-duty Aluminum frame, Our compact baby stroller features a 5-point safety harness, which can protect your baby from sliding out of the bassinet. and the maximum weight for this toddler stroller: 50 lbs/22kg. Recommended Age: 0-36 months.
✔Adjustable reclining backrest and canopy - Adjustable seatback with multiple recline positions to let your baby comfortably sitting or lying. And the extended sun canopy provides more sun coverage and sunside protection, lightweight umbrella stroller it also comes with a removable shading cloth that allows the baby to have a dark environment to rest.
✔Multiple Handy Features-Foldable compact stroller is convenient for you to carry items when you go out every day, travel stroller lightweight it could easily storage bottle, toys, diaper bag and other essentials. Peek-a-boo window, lightweight stroller for travel Allow you to keep an eye on your baby at any time. Detachable armrest, allows your baby easily in and out. WARM TIPS:The actual stroller is subject to receipt of the physical item (with logo).
Sale
Bestseller No. 5
Baby Jogger City Tour 2 Ultra-Compact Travel Stroller, Jet
Ultra-lightweight travel stroller weighs only 14 lb, with a compact and easy-to-maneuver design
Create a travel system by adding a Baby Jogger infant car seat using adapters (car seat and adapters sold separately). Note: Stroller is not intended for jogging
Ultra-compact, one-step fold and auto-lock ensures easy transportation and storage
Multi-position padded seat reclines to a near-flat position, and adjustable calf support provides comfort for growing children
Includes carry bag to protect stroller from dirt and scratches when traveling
There's also a review for the Summer Infant 3D Flip Convenience Stroller, another great lightweight stroller.
There are also some more lightweight strollers featured in the umbrella stroller section. Unsure if a lightweight stroller is right for you? Check out our home page to decide what type of stroller is best for your family.
Disclaimer: The Stroller Site is a participant in the Amazon Services LLC Associates Program, an affiliate advertising program designed to provide a means for sites to earn advertising fees by advertising and linking to amazon.com, amazon.co.uk, amazon.ca. Amazon and the Amazon logo are trademarks of Amazon.com, Inc. or its affiliates. Thank you for supporting TheStrollerSite and ensuring we will keep being able to provide you the best information about the best strollers!