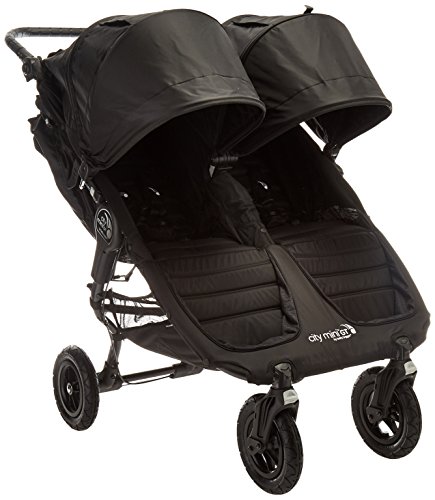 It is no surprise that one of the ultimate double strollers is from Baby Jogger. The stroller is an improvement over their City Mini double stroller and moves a lot better than other doubles. This is thanks the the all terrain wheels. The wheels can also be locked into place for added stability. The handle of this stroller is also adjustable which is a big benefit for parents.
The updates have also resulted in a stroller that is one of the easiest double strollers to fold – period. This is one of the major benefits of Baby Jogger strollers and it is definitely apparent in this double.
The seats are also great. The stroller is a side by side design with each side having their own canopies, recline and footrest. And of course, there is a safe 5 point harness on each side which is padded for comfort.
There is a good deal of protection offered by this stroller. Not only is there a canopy on each seat with two windows, but the back of the seat has a screen which can be closed. The brake is also hand operated which is a much welcomed change over a foot operated brake.
The wheels are removed easily by the push of a button. The stroller folds compactly but as with any double may be difficult to fit into a smaller cars trunk. The stroller is great for storage with three pockets on each side of the seat and a large basket underneath.
Read more of our Baby Jogger GT double review to find out what else is great about this stroller.
Features of the Baby Jogger City Mini GT Double Stroller
Wheels are suitable for all terrain
Can be used from birth
Front wheel suspension
Fits through most doorways
Seats recline independently
Each seat has its own canopy
One hand fold
Height adjustable handlebar
Hand operated brake
Specifications
Product weight: 33 pounds
Product dimensions (folded): 30" x 30" x 11"
Capacity: 100 pounds
Car seat can be attached
Several different colors available
Pros
Many of the best features that you read about in Baby Jogger City Mini GT double reviews are also found on the City Mini double, and these will be mentioned below as well as features that differ from the double.
Baby Jogger seats are some of the best and the City Mini GT double has two full sized seats that sit side by side. The seats each have their own canopy and recline independently. Basically, the stroller brings two single strollers into one.
Another benefit is that this stroller accepts a taller height than the double. This is because the handlebar is now height adjustable – a much needed improvement over the standard stroller. The seats also have additional padding, a padded leg rest and the fabric can be removed and washed.
The brake is located on the handlebar which is convenient and stops you from having to navigate a foot brake. The stroller is also able to be folded with one hand – the biggest benefit of all Baby Jogger strollers!
See the stroller in the video below:

Cons
Baby Jogger double strollers do have huge baskets, but they are difficult to access from the back. This is still the case with the Mini GT double. The mesh sides do help, but greater access at the back would really improve the stroller.
You can push the stroller with one hand, but in reality you wouldn't want to. At this size no double stroller is easy to push with one hand.
The stroller, as with most doubles is far from lightweight. At 33 pounds this stroller is heavier than the City Mini double.
Summary – 4.0/5
I must admit that I love strollers from Baby Jogger. They are just so easy to use and steer and although they may not be the cheapest strollers on the market they are an investment worth making.
The same is true in the City Mini GT double review. The updates made to make this stroller make it even better but to be honest, they are modest. There is not a huge amount of features that separate it from the Baby Jogger Double Stroller.
The updates that have been made however do result in a stroller that is easier to use over all terrain. The one hand fold feature is so much easier on this model, the wheels are noticeably more responsive and overall the stroller looks better.
I would still consider the Baby Jogger double stroller an almost equal alternative, but if you are happy to spend a bit more you can be confident that you will be investing in top quality.

Still undecided? Check out our guide to double strollers to see more of the best double strollers.

Disclaimer: The Stroller Site is a participant in the Amazon Services LLC Associates Program, an affiliate advertising program designed to provide a means for sites to earn advertising fees by advertising and linking to amazon.com, amazon.co.uk, amazon.ca. Amazon and the Amazon logo are trademarks of Amazon.com, Inc. or its affiliates. Thank you for supporting TheStrollerSite and ensuring we will keep being able to provide you the best information about the best strollers!