Children come in all shapes and sizes and so all parents will know that there is no such thing as a "one size fits all" stroller. Especially if you are looking for a stroller for bigger kids.
Many of our kids are outside of 'normal' percentiles, with bigger babies and toddlers presenting their own challenges as strollers are often designed without them in mind. This can be especially troublesome for older children who may need to use a stroller for long distances, and for children with special needs.
Large toddler or jogging strollers are usually the best options, with many supporting a weight of up to and over 70lb. The best strollers for big kids are below, followed by our reviews of the best big kids strollers which are sure not to break your budget or your back.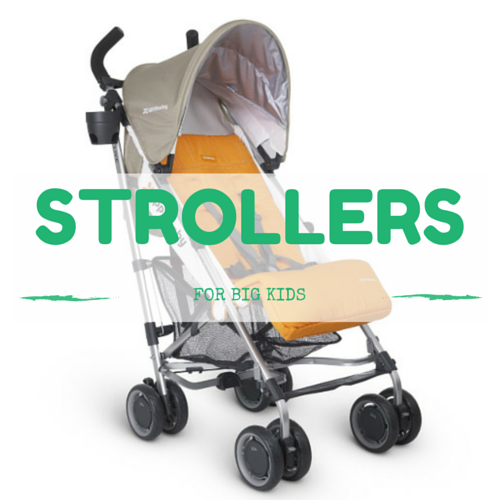 The Best Strollers for Big Kids
Comparison Chart
If you are looking for a big kids' stroller, the following chart will help you compare all the best ones. Simply look at whichever criteria is the most important to you. Below you will find our strollers for big kids reviews.
* = This stroller is suitable from birth if a car seat attachment is used.
Best Jogging Stroller for Big Kids
Rather than a bigger kid being an excuse not to jog, some of the best strollers for big kids are in fact jogging strollers. Jogging strollers often hold bigger weights which is great since it means you can still keep active with your little (big) one! There is certainly no shortage of jogging strollers for big kids.
JOOVY Zoom 360 Ultralight Jogging Stroller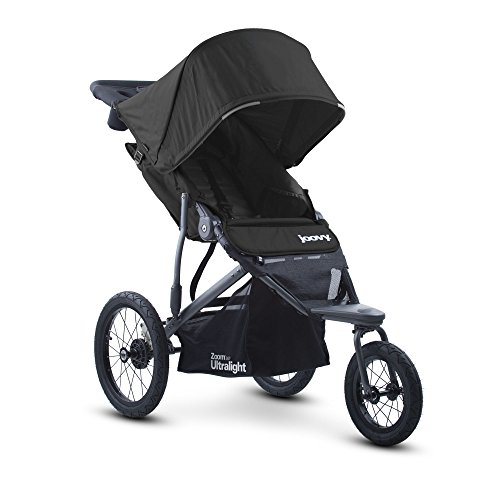 An update to the popular Joovy Zoom 360 jogging stroller starts off our big kid strollers reviews. The stroller has proven to be a very popular option as a jogging stroller for a big kid, and it's easy to see why.
First and foremost, it has a great capacity of up to 75lb, and can be used from 3 months old. This great range sets it apart from others already. The seat features little padding, but is not uncomfortable even for longer journeys. The seats are also extra wide and there are multiple recline options.
The stroller itself features an oversized canopy, however do note that the canopy slopes which is great for sun protection, but some Joovy Zoom 360 reviews have reported it as troublesome for taller kids. The canopy features a peekaboo window for spying. There is also a giant storage basket below and a parent organizer up top complete with a drink holder and pocket.
This stroller is one of the largest jogging strollers for big kids available but still relatively lightweight at around 27lb.
The Joovy Zoom 360 swivel wheel jogging stroller can be tightened or loosened to your specifications, with the wheel being tightened for jogging or looser for casual walks.
Click here for more information and the latest prices.
Best Umbrella Stroller for Big Kids
Umbrella strollers always prove to be a popular choice with parents for the fact that they are lightweight, easy to push and easy to store. However many people mistakenly believe that they are not suitable for bigger kids due to their lightweight design. Do not mistake this for weakness as umbrella strollers can be a great option for bigger kids.
2018 UPPABaby G-Luxe Stroller Review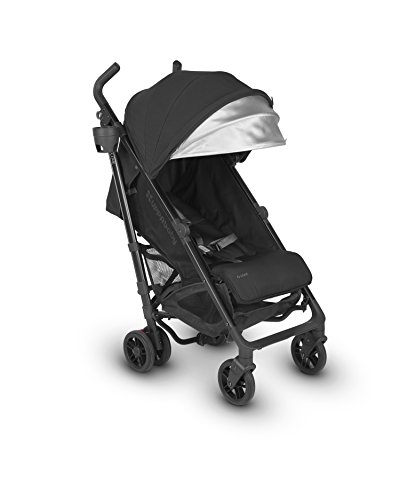 Second on our list is the UPPABaby G-Luxe stroller. This big kid umbrella stroller features a height adjustable canopy which is a must for taller kids. The canopy also extends as a sunshade for even more sun protection. The tall handlebars are suitable for both taller and shorter parents, and the stroller includes cup holders and an under basket. The stroller also features a one foot pedal brake.
It can be surprising that umbrella strollers for big toddlers are available, but the UPPABaby G-Luxe is great for toddlers. The seat is very comfortable, nicely padded and reclines very easily. At only 15lb the stroller is incredibly lightweight and includes a carrying strap making it the perfect travel option to take with you, a clear reason why umbrella stroller for big kids are so great.
A drawback of the stroller is that there is no option for attaching a car seat. However, for the lightweight design and weight versatility, it is also very strong and reliable and should be one considered for use as your everyday stroller.
Click here for more information and the latest prices.
Best Double Stroller for Big Kids
If you have either twins or even two kids of separate age, large double joggers can be a great option as they usually hold a capacity of around 100lb. For big kids and their little siblings there should be no issue finding a suitable stroller. Many double strollers have adjustable seats and suspension systems to improve the strollers performance.
BOB Revolution Flex Duallie Stroller Review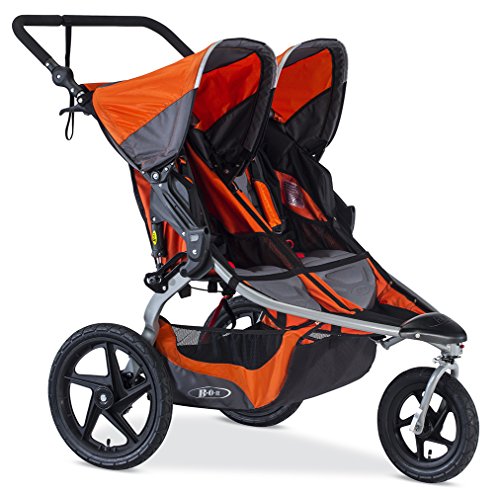 If you've got big twins or need a double stroller for a big kid and baby, check out the Bob Revolution Flex Duallie. It is a double stroller that has great capacity for both kids.
The stroller has several advantages. It is basically just the Bob Revolution Flex in a double stroller, but there have obviously been a few modifications to make this suitable. Firstly, the seats. The stroller has a maximum capacity for 100 pounds, with a 50lb capacity in each seat.
The stroller is suitable for use at 8 weeks, so relatively new babies will sit comfortably. It can also be used by infants with a car seat attachment. Each seat is very well padded and reclines independently. Each seat also has its own canopy, and there is a recently upsized, large storage basket with easy accessibility underneath.
The Bob Revolution Flex Duallie is great for jogging and features the same suspension as the Bob Revolution Flex to ensure a smooth ride.
A downside of the stroller is that drink holders are not included, but a parents snack tray can be purchased separately which is a must have for use when jogging.
The stroller is probably too large as an everyday stroller, but it is a great double stroller for big kid when getting outdoors.
Click here for more information and the latest prices.
Quick Price Comparison of Top Strollers for Big Kids


This comparison chart will not display if you have enabled ad blocker.
Big Kid Stroller Reviews
To finish off our stroller reviews for big children, three more great strollers are listed below. Although it seems like finding strollers for big babies is tough, there are some great strollers for sale. The selection is large enough to accommodate whatever type of Mom you are, ensuring you will find the right stroller for you.
Maclaren Techno XLR Stroller Review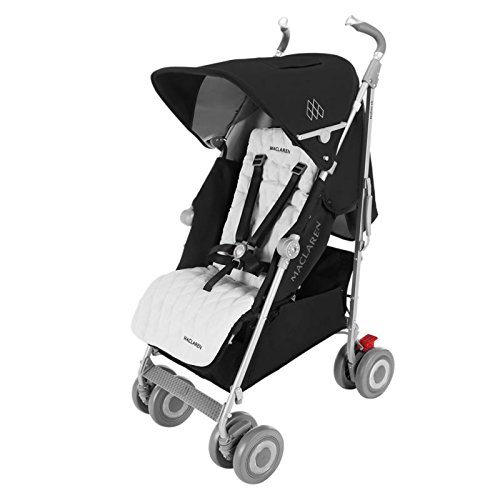 This Maclaren stroller is certainly packed with features, and that makes it the ideal choice for mobile families. Complete with a newborn safety system, you can be sure that your little one will be safe and comfortable, with a fully reclining seat and extending leg rest. There is a waterproof canopy which is adjustable and extendable, to keep sun out of small eyes, and the stroller also comes with a premium wind cover which is rain resistant and extremely waterproof, as well as a winter boot, shoulder pads, and head hugger, for extra comfort.
The seat is machine washable fabric, and has four reclining positions. The handles are extendable for all heights, and there is a large shopping compartment underneath the stroller, with a zip opening at the side to keep everything safe and in place. We know that Maclaren is a big name in the stroller world, and that alone should give you confidence.
Click here for more information and the latest prices.
Maclaren Globetrotter Review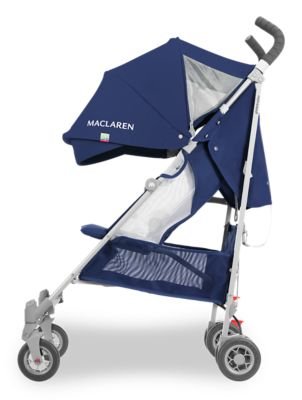 For many reasons the Maclaren Globetrotter Stroller is popular, but there is one standout reason. Unlike other big strollers for toddlers, this stroller weighs only 11lb! This makes it the lowest weight stroller for big kids on our list, and perhaps even on the market.
The stroller is great for kids above 6 months, with a weight limit of 55lb. This is lower than others but being such a lightweight stroller was bound of reduce its capacity.
There is a well sized waterproof canopy and basket, making the stroller a suitable option for shopping trips and everyday adventures. The seats can recline to an almost flat position, and are completey removable and machine washable, something rarely seen. The seats are also quite roomy.
Another great thing about the stroller is just how cheap it is. It is the lowest cost stroller on our list.
The stroller is obviously not without its drawbacks, and the stroller is probably more suitable for shorter trips. You do get what you pay for, although this stroller is definitely great value for money and if you're on a budget it may well be the one for you.
Click here for more information and the latest prices.
Maclaren Quest Review
Another Maclaren product is the Maclaren Quest, and this one comes with seriously positive reviews no matter where you look. Again, this product comes with the newborn safety system, and that means you can be sure that your new bundle of joy is comfortable and safe whilst you go about your business.
The seat is also four position reclinable, and there is an extending leg rest for growing children; you simply recline the seat with one hand, no need to struggle. If you need to replace any parts, you can easily find them without major fuss.
The stroller comes with a wind and rain resistant cover, so you know your baby is protected during adverse weather, and it is easy to collapse down and put back up again, all with just one hand. Again, you have the big name brand for confidence and peace of mind, but this particular stroller is ideal for families who want to be active and on the go, all together.
Click here for more information and the latest prices.
Baby Jogger City Mini Gt Single Stroller Review
If you are looking for a stroller which is perfect for every type of terrain going, then this is the one you need. Compact with wheels which are perfect no matter where you are traveling, as well as a front wheel suspension which gives you extra control on hills and bumpy land, this is a lightweight, compact, and cost-effective choice to go for.
When folding down the stroller you simply have to use one hand, without having to fuss around and struggle, simply by pulling on the seat strap.
The sun and weather canopy is huge and will cover all eventualities, and there are multiple points for seat adjustment, so you can choose a recline which is best for your child, as well as almost full recline for newborns and young children. There is also a hand operated brake for parking, which basically adds to the whole package.
Click here for more information and the latest prices.
BOB Revolution Flex Review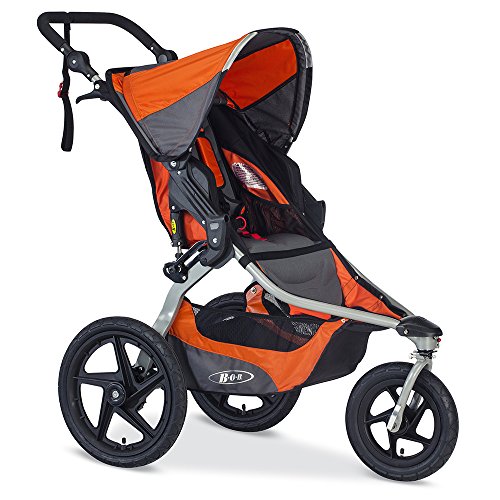 The Bob Revolution Flex Stroller is one for the enthusiasts. It is a strong and versatile stroller with no shortage of features that is sure to satify the needs of you and your big kid. As a large stroller it is a more suitable for use as an outdoor jogging stroller than as an everyday get around.
The stroller is great for jogging with adjustable suspension and, at around 28lb, it is neither too heavy to push or too lightweight.The handlebars are adjustable to nine different positions, so whether you are short or tall the stroller can suit you. The underneath storage is great in the latest version and there is a great canopy over top which has just been updated to cater better for taller kids. Unfortunately, drink holders are not included.
The stroller can be used from 8 weeks (from newborn with car seat attachment) to a capacity of 75lb, with seats reclining relatively far back as well as being able to be fully upright. The stroller also features shock absorption technology that ensures a smooth ride.
A drawback of some strollers for big kids is that they can be difficult to fold. The two step fold of the BOB Revolution Flex can be tricky operate at first. This was the only real drawback, and can be overcome with a little practice.
Click here for more information and the latest prices.
Mountain Buggy Terrain Review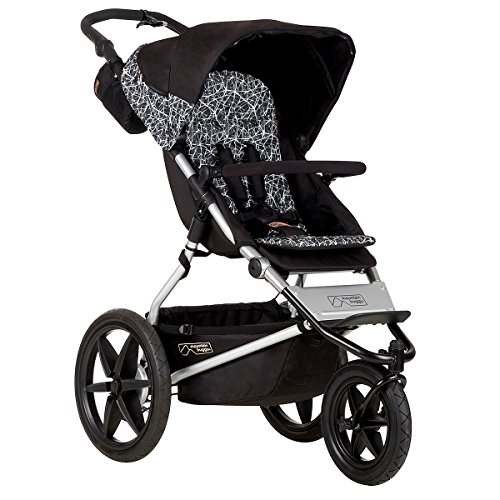 The Mountain Buggy Terrain Jogging Stroller is definitely in the running as the best stroller for big kids. The stroller is very well made with seats that can be fully reclined and, unlike the other strollers on our list, is therefore suitable for newborns.
There is no shortage of features for parents with a large 11 lb capacity storage basket on the bottom and two drink holders on top with additional storage in canopy and in seat. The canopy itself can be adjusted to any angle for sun protection whichever way it may shine.
The way the handlebars adjust is a rather cool feature, as they flip to suit your height. Along with this, the handlebars include an easy to operate brake for added safety.
Confusion has arisen with the weight capacity of the stroller. The stroller is certified for a maximum weight capacity of up to 77lb, but has only been tested to 55lb. However, we have been assured the stroller is safe for up to 77lb.
At 35lb the features of this great stroller do not come without a considerable weight increase. Jogging with the stroller is initially heavy and will take some force from you to get moving. However, once you get going you will feel like you can go on forever.
Click here for more information and the latest prices.
Thule Urban Glide Sport Stroller Review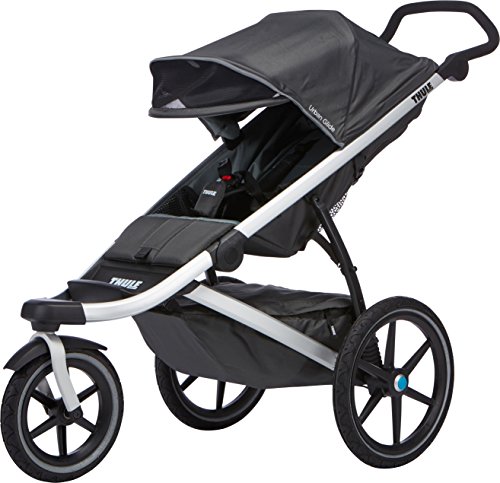 This ultra-sporty number is perfect for active families, and you can choose between a one child and two child option, depending on your needs.
In terms of usage, this stroller is very easy to manoeuvre, with a swivel front wheel which locks into place when jogging, for extra control, and a handlebar which is ergonomically designed for comfort, and adjustable for different heights. The rear suspension controls the stroller and gives a smooth ride for your child.
This is a great choice for either jogging or simply walking around, and as we mentioned before, you can lock the front wheel with ease for your control, by using a knob which is twisted to make your choice. There might be many added extras on this particular stroller but it isn't difficult to use, and that sets it apart from many similar models in this vein.
Click here for more information and the latest prices.
Looking for some more options? Check out our guides to jogging strollers and umbrella strollers. You can also find out the best strollers for toddlers.
Disclaimer: The Stroller Site is a participant in the Amazon Services LLC Associates Program, an affiliate advertising program designed to provide a means for sites to earn advertising fees by advertising and linking to amazon.com, amazon.co.uk, amazon.ca. Amazon and the Amazon logo are trademarks of Amazon.com, Inc. or its affiliates. Thank you for supporting TheStrollerSite and ensuring we will keep being able to provide you the best information about the best strollers!