Strollers are a staple in every parent's arsenal of gadgets to make life with kids a little bit easier. For parents of twins, strollers are an absolute must-have, allowing some hands free time and letting you move and handle both kids at the same time, while they are comfortably and safely buckled into their seats.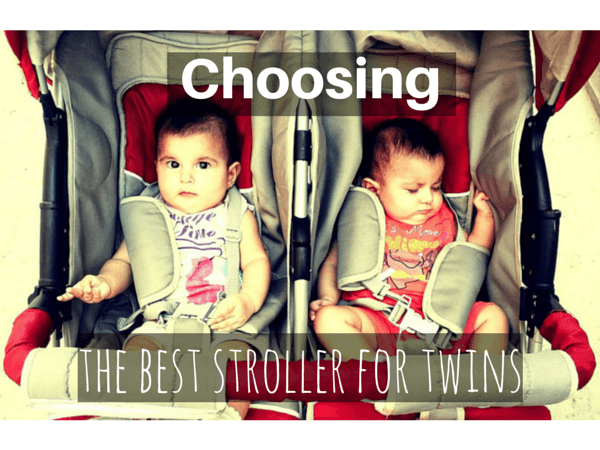 Finding the best double stroller for twins could be among the best investments you make as parents. And because of the dizzying array of models available, it can also be among the most daunting things in your to do list.
Comparison Chart for the Best Twin Stroller
Here is a comparison chart for the best strollers for twins available in the market. Compare specifications, reviews and manufacturer's guarantee to help you choose what's best for you and your family. Below you will find the best stroller for twins reviews.
How To Choose The Best Stroller For Twins
Choosing the right stroller for your twins will go a long way towards making your parenting life easier, more comfortable and less stressful for you and your kids. Remember that the key is in knowing what works best for your family's lifestyle. The best twin strollers for you need not be the latest or most expensive model nor should having a limited budget mean getting a poor quality stroller. Here's a quick guide to help you choose the perfect stroller for your twins:
1. Know your family's needs, lifestyle and budget.
A good understanding of how you will use your stroller and how much you can afford to invest will help you make a better choice to keep you and your twins happy. Active families may be most suited to tandem joggers, while families who only need a stroller to take daily walks in their village park would love a side-by-side. Ask yourself basic questions like what places you will be frequenting with your twins or will you be driving or commuting, and what stroller accessories would you need?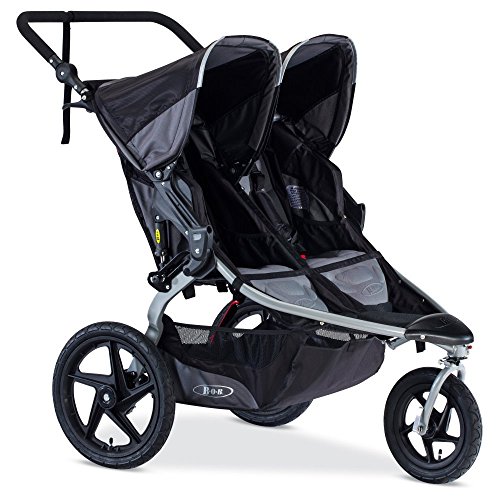 2. Side-By-Side or Tandem?
Once you know what you need and how much you can spend, look at your options. There are two basic styles of double strollers for twins: the side-by-side and the tandem. Side-by-side strollers allow both children to sit beside each other while a tandem stroller has the seats one in front of the other. Both styles have their own advantages and disadvantages.
Side-By-Side strollers are a favorite because they allow both kids to have the same view with both kids being more accessible to mom and dad. This seat positioning however can also be a disadvantage, since the wider width can make the stroller difficult and cumbersome to maneuver especially in tight and narrow spaces. Side-by-side strollers usually have a greater incline position compared to tandems and allow both children the same leg room and seat space to wiggle about. Read more about side by side strollers.
Tandem strollers have one seat in front of the other and are longer but with the same width as a single stroller. Tandems are easier to maneuver compared to the wide side-by-side. While most tandems are popular for those with an older child and an infant, most of them also easily accommodate two infant car seats, which allow parents of twins a stroller they can use as their children grow.
Still undecided? This video is specifically to help you decide if a tandem or side by side is best for your twins:
3. Read. Compare. Ask.
The internet is a rich resource for product reviews, parents' forums, blogs and websites to help you make an informed choice. Take advantage of forums that allow you to ask other parents about their experience about particular brands or models you are considering. Make sure you also check the websites of product manufacturers, see if they have special offers or discounts you may avail of or ask about their warranty coverage. Most of all ensure that what you chose is a double stroller for twins and not a double stroller that is only suitable for an infant and a toddler.
Best Twin Stroller Reviews
Britax B-Agile Double Stroller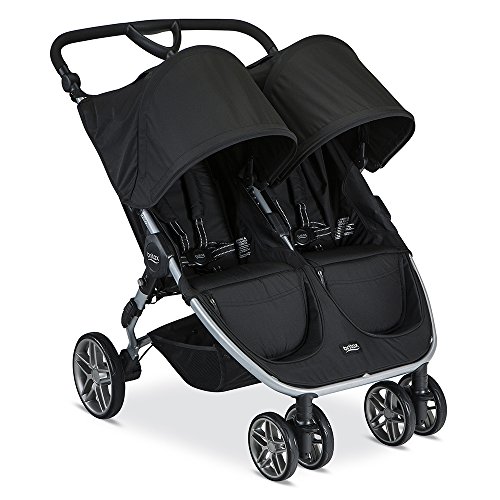 The Britax B-Agile Double Stroller remains a consistent top-rating favorite. Our Britax B-Agile Stroller reviews found a quick-fold design and lightweight yet durable frame that features height adjustable handles makes it a versatile stroller suitable from birth and well into early childhood. This side-by-side is also very maneuverable and really compact. While it looks wider than it actually is, it can in fact fit in standard single doorways and is actually not much wider than a standard shopping cart, much to the surprise and delight of satisfied parents.
The extra large canopies and mesh windows really help to keep your twins comfortable, allowing air to flow freely and ensuring good ventilation even on really hot days. The mesh windows also easily roll-up to give parents easy and convenient access to the little ones. Equipped with all wheel suspension, a five-point safety harness system and single step rear wheel locks, this stroller was designed to give a smooth and safe ride. The padded seats also have an infinite recline feature with adjustable head pads and are designed to carry children up to 50 pounds per seat.
An under-seat basket has more than enough space for your twins' bags and toys and even space for mom's grocery bag. Each seat also has a built-in back-of-seat zippered pocket for added storage of babies' and parents' essentials. While it is among the pricier double strollers available, the quality and durability of its materials, coupled with its ease of use and convenient value-added features make it a wise, cost-effective investment for many families with twins.
Check out the latest price of the Britax B-Agile stroller.
Graco DuoGlider Click Connect Stroller
The Graco DuoGlider Classic Connect Dragonfly is a favorite because of its superior quality but really affordable price. This stadium-style stroller features a one-hand, self-standing fold design that allows for easy assembly and storage. The one-hand fold feature comes in especially handy when you have cranky little ones and need to pack-up and go in a jiffy. Its extra large storage basket, as well as trays for both parents and the kids gives more than enough space for other essentials.
The Graco Classic Connect also readily accepts two Graco infant car seats allowing easy transfer from the car to the stroller. Both seats are roomy enough for comfortable seating, with each seat having a maximum recommended weight capacity of 40 pounds, making it suitable for use from infancy to early childhood. Each seat reclines, with the rear seat reclining completely flat.
While not as flexible as other strollers in the market in terms of options for multiple recline positions, the Graco Connect Stroller still allows for comfortable and safe seating. Also when the rear seat is reclined flat, access to the rear storage basket is quite impossible without disturbing a sleeping baby.
The seats also have individual canopies and foot rests that help ensure your twins' comfort, a plus especially for parents of active toddlers. The rear canopy doesn't have a window or mesh to see inside and blocks your view of the little one seated in the back. This is easily remedied though by just taking a peek around the canopy to check your child every now and then.
All in all, the Graco DuoGlider Classic Connect Dragonfly is an affordable yet durable stroller that's well worth looking into despite some of its shortcomings.
Check out the latest price.
BOB Revolution Flex Duallie Stroller

The BOB Revolution SE Duallie Stroller is one of the most highly recommended and top-rated side-by-side strollers available in the market today. Designed to keep up with the active, outdoor, sports and leisure lifestyle, this versatile stroller can easily be moved and maneuvered in all types of terrain and landscapes, from urban cityscapes to sandy beaches and bumpy hiking trails.
The easy-to-fold, lightweight frame also features a patented state-of-the-art suspension system that makes for a smoother ride especially when moving around rough and bumpy surfaces. This patented suspension has a two-position shock absorber system that allows it to adjust to uneven road surface conditions.
Maneuvering around is a breeze with the full rotating front wheel design that complements wide and durable rear wheels that are especially designed for rough terrain. Its easy to use padded five-point safety harness straps keeps your little ones comfortably buckled in, allowing mom some peace of mind as she maneuvers around. The rear-wheel brake system provides added security and safety.
Wide adjustable reclining seats that tilt back to 70 degrees with an easy, one handed lever and multi-position adjustable canopies help keep your twins comfortably seated and at the same time protected from the elements. The BOB Revolution Flex Duallie also has a car seat adapter (sold separately) that accommodates many popular infant car seat brands.
One of its most popular features is the various built-in storage options that include four interior pockets, an extra large, under seat hanging basket and two seat-back pockets providing more than enough space for essentials on your sojourns out. It also has adjustable handlebars which are perfect for parents of different heights. They also cater very well to taller parents.
While it is among the priciest strollers available, its tried and tested quality, performance, versatility and safety has made it a wise investment for many families.
Choosing the perfect stroller for your twins is all about knowing exactly what you need. With a little diligence to do your research, it is not impossible to find the stroller best suited to your family's unique lifestyle.
Still undecided? Read more in our double stroller guide and our double jogging stroller guide.
Disclaimer: The Stroller Site is a participant in the Amazon Services LLC Associates Program, an affiliate advertising program designed to provide a means for sites to earn advertising fees by advertising and linking to amazon.com, amazon.co.uk, amazon.ca. Amazon and the Amazon logo are trademarks of Amazon.com, Inc. or its affiliates. Thank you for supporting TheStrollerSite and ensuring we will keep being able to provide you the best information about the best strollers!